~Ashley, college junior~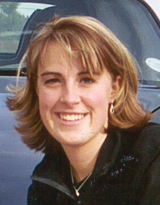 College is a time for personal exploration and discovery and enormous personal growth. A very important part of my growth included gaining self-knowledge for application toward my future career choice. I came to school thinking I wanted to be a graphic designer, but the more I thought about it the more I wasn't sure. I spent a significant amount of time with Mrs. Wieland exploring options and what major would help me fulfill my dreams. Subsequently I picked Interior Design as my career choice. The series of assessment and personality tests Mrs. Wieland gave me and interpreted for me allowed me to come to a decision on this major and a state university where it could be pursued.
After pursuing this dream, I was not admitted – competition is such that only one in four applicants get into the major. After I got over the disappointment I really felt that this was a sign to move on and something better was still out there, but what? A year later, Mrs. Wieland again was there to help me think through this dilemma. She listens to what you say and helps you sort your thoughts. She connects you with other resources to gather information. Being forced to change majors as a junior in my new university could have been extremely traumatic. With her help, I found a new vocation in Construction Management, allowing me to use the studies I had pursued and to express my confidence and career drive as well as values in a field I like and can expect to make a contribution.
~Ariana, College junior in fall 2007~
Andrea I wanted to let you know that I got accepted to all 3 schools I applied to and I am going to accept CU-Boulder! Thanks so much for all your help, I never would have gotten in if it was not for you.
~Krista, graduate student~
Andrea is a details person who leaves no stones unturned in her desire to assist in job preparation and search. She was attentive and responsive to my needs and she is well versed in this topic. I would not hesitate to turn to her again, should I find myself in need!
~Linda, re-entry student~
I am so grateful to Andrea and her help. I knew I wanted to look at a second career but didn't really know what it was I wanted to do. Andrea not only helped me figure out a career path that I would enjoy but also what I would be good at. She helped me find web sites with tons of information, she gave me quizzes and worksheets to help me with the process. I'm 100% sure about my new career choice thanks to Andrea.